Program, akce: Evropský sbor solidarity (ESC) — individuální dlouhodobé dobrovolnictví (10 měsíců)
Termín konání: flexibilní začátek (délka trvání: 10 měsíců)
Místo konání: Argos, Řecko
Počet volných míst: 5 dobrovolníků (ve věku 18-30 let)
Prosím přečtěte si info-pack. Pokud máte zájem zažít těch nejúžasnějších 10 měsíců, prosím vyplňte přihlášku zde. Prosím v přihlášce do sekce vysílající organizace napište EYCB – European Youth Centre Břeclav.
Před tím, než se přihlásíte na jakýkoliv náš projekt, důkladně si přečtěte všechny informace v sekci Chci vyjet na projekt a seznamte se s Pravidly účasti na zahr. projektech.
Pro to, abyste na tento projekt mohli jet je nutné, abyste vlastnili nejen občanský průkaz (který musíte mít ze zákona), ale také platný cestovní pas (s platností min. ještě 150 dní od datumu začátku vámi vybraného projektu).
V rámci programu Evropský sbor solidarity jsou následující finanční specifika: v rámci všech projektů ESC je kompletně (ze 100 %) zajištěno jídlo, ubytování, aktivity, povinné doplňkové pojištění u pojišťovny Henner Health, jazykový kurz, místní doprava, a to vše je zcela pokryto z fondů EU programu Evropský sbor solidarity a zařízeno organizátory. Účastníkům dále budou proplaceny cestovní náklady (v případě tohoto projektu) ve výši max. €275 z místa bydliště do místa konání projektu a zpět.
Účastník musí:
Být ve věku 18-30 let;
Být zaregistrovaný na portálu ESC (v případě, že máte s registrací problém, řiďte se tímto návodem)
Mít zájem o dobrovolnictví a tento projekt;
Ovládat angličtinu alespoň na úrovni B1
Hostitelská organizace: Hopeland
Popis ESC dobrovolnické pozice:
Be a Hopelander
Live for 10 months in Hopeland, a 7-acre eco place in southern Greece focusing on sustainability, and create your own personalized volunteering experience, as part of an eco community.
Use your hands, your mind, your creativity and any other skills you might have to support the Hopeland crew into hosting group trainings and residencies, into maintenance of the place, and into outreaching the local community of Hopeland.
Hopeland – Context
Hopeland educational eco – community is located in a rural remote area in the south part of Greece. The venture is built with lots of love and (mainly) with natural materials from volunteers, visitors and guests who have visited and stayed with us throughout the last 10 years.
We are envisioning a space which can nourish people who are nourishing themselves through nourishing the space that is nourishing them. Thus, creating a spiral of positiveness and mutual enrichment, serving as catalysts for improving our broader society.
We believe in promoting and maintaining the ecosystem's diversity at the environmental and social levels, so different needs, experiences, and identities can find space and place in our community.
European Solidarity Corps (ESC) at Hopeland – Principles:
50% of the project is focusing on supporting Hopeland crew in their regular, ongoing tasks, based on 4 domains of service.
50% of the project is focusing on being part of an educational eco-community as a volunteer.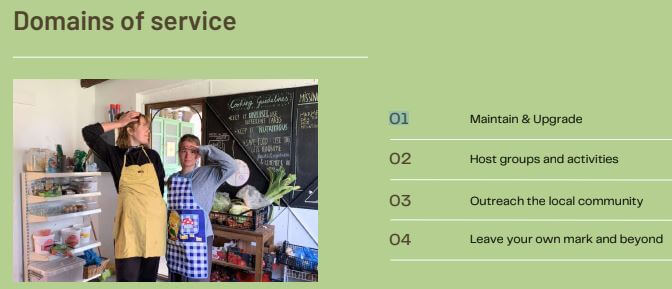 1. Maintain and Upgrade
Hands-on actions and activities focusing on the maintenance & improvement of the place. It can be maintaining the gardens and keeping in a good condition the infrastructure and facilities of the estate, farming, taking care of the animals, opening paths, making wooden constructions or eco building, and other initiatives for improving the sustainability factors of the place.
2. Host Groups & Activities
Between March and November, we will have several Erasmus+ groups and volunteering teams being at Hopeland for learning activities. Most of these activities are connected in one way or another with the idea of sustainability.
As part of the Hopeland crew, you will be asked to support hosting these groups in several ways and according to your skills.
It can be preparing the place, cooking, delivering workshops or activities, tutoring them in task-related activities and, in general, supporting the hosting of those groups.
3. Outreach the Local Community
One of the parts of the project is to reach out and connect with the local community and the local initiatives of the surrounding area.
We aim to build strong partnerships and plan common activities, creating a positive impact for the people around Hopeland and the environment.
4. Leave Your Own Mark and Beyond
By joining this project you are already considered a "Hopelander", and a member of the Hopeland eco-community. The place also belongs to you. To support you with that, we encourage you to leave your mark in Hopeland.
It can be really anything as far as it is in line with the vision of Hopeland. It can be from a piece of furniture made of used pallets, a piece of art from repurposed materials, a drawing, a video about Hopeland, a future project, a tree that you planted, a strong partnership with another local or international initiative, a recipe book, a new NGO etc.
This includes initiatives not only during your stay at Hopeland but also afterwards for example to create a project for your community.
For this personal project you are going to be mentored to acquire a new skill and in the meantime to leave something valuable for Hopeland behind.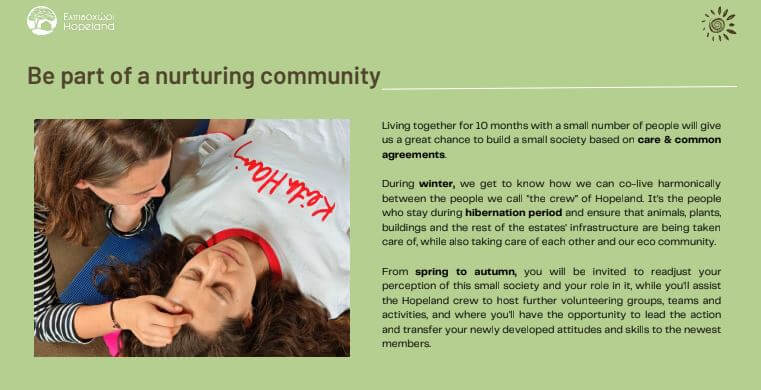 For Whom?
We offer this opportunity to 5 volunteers, legal residents of one of the Erasmus + programme countries.
There are several requirements from the programme itself and a profile that we would like to focus on.
Profile:
18-30 years old (not older than 31 on the day you start your service)
Legal resident of one of the Erasmus+ programme countries, and that does not require a visa to enter Greece
Eager to learn or already have the knowledge or experience with the topics of the project
Enthusiastic with hands-on activities.
Eager to take initiative and create opportunities for themselves and society.
Ready to live in a rural environment with basic conditions for 4,5 months.
Ready to be challenged to align together with people from different cultures into making together a sustainable community.
People with a clear plan and vision regarding their participation in the project and beyond.
Extreme priority will be given to those that are facing or faced any kind of troubles in life
Special Skills:
It is a bonus if you have media skills such as photography and filmmaking for documenting this whole experience but also support Hopeland activities, digital marketing and communication of our activities
Please read the info-pack for the rest of the information about this incredible opportunity.