Programme & action: ERASMUS+, Key Action 1: Training Course

Venue: Sarata Monteoru & Buzau, Romania

TC dates: 2 — 10 February 2022

Czech team: Nikita Golmgren, Alena Aichlmanová, Barbora Machová
Videos from the project:
LARP 1 https://youtu.be/xXuwm5pYCAw
LARP 2 https://youtu.be/yzvHyiyEuOg
Masha 1 https://youtu.be/4f1t3sn6zmA
Masha 2 https://youtu.be/MBE4RWMKayI
Masha solution https://youtu.be/dXCQoVazQAA
Natasha https://youtu.be/6r5YFUxX5Gw
Role Play 1 https://youtu.be/yOwi73heQ5s
Role Play 2 https://youtu.be/KDP1mDDG6nc
Role play 3 https://youtu.be/73Xc_RROb1I
Host organisation: FPT Buzau
Participating countries: Bulgaria, Croatia, Cyprus, Czech Republic, Estonia, France, Greece, Italy, Latvia, Lithuania, Netherlands, North Macedonia, Poland, Romania, Slovakia, Spain, Turkey
Please read the info-pack & daily activities programme.
Project report:
On the first day of the project, at roughly 9 o'clock, we arrived at the charming pension Casa Cu Tei in Sarata-Monteoru. This was where we'd stay for most of the project (up until the last two days, at which point we would move to Buzău). For most of us, this was the first moment when we could finally relax after a day full of traveling, since most of us had arrived in Romania on the same day. Luckily, Casa Cu Tei was the perfect place to do so – the friendly staff, good food, fancy interiors and natural surroundings helped us feel completely at home there.
The project's main topic was migration and social problems which migrants face,the second topic was theatre and acting – the project's organizers combined those two topics to create a unique and educational experience.
The first half of the project was full of workshops and activities; the goals were to establish a mutual understanding of the issues at hand, to start discussions about the mistreatment of immigrants and refugees so common in today's world (as well as other related problems), and to come up with ideas on what can be done to make a change. During the workshops we often acted out short sketches, performed scenes and roleplayed, which made discussion and learning fun and exciting.
In the second half of the project, we had to start working on our own plays. First, we were introduced to the forms of theatre we would be working with. We were to form four groups – one group would prepare classical theatre performances. The second group would create a story using medium of LARP (Live Action Role-Play). The remaining two groups would work in a format which was brand new for most of us, called "forum theatre". In a forum theatre performance, the play is performed twice. During the second time, the audience can get involved in the story – any viewer can change the course of action by either briefly taking the place of a certain character, or by coming on the stage as a brand new one, meanwhile the rest of the cast improvise and adapt to the changes brought on by the audience.
Once we split into the four groups, we started preparing plays related to the social issues which we had discussed. In the end we had prepared six performances for a small audience in Buzău. The first three performances were the classic type of theatre performances, where we presented a story to the viewers:
The story of Maria, a housemaid whose boss, Angelina, accused her of stealing a family heirloom. Although her life was almost ruined by the accusation, and she struggled to provide for her children – it wasn't until many years later that Angelina discovered who the thief actually was. Angelina then attempts to reconcile with her.
The story of Christina, a young girl who fell in love with a singer from a rich country. Blinded by emotions she quickly married him and moved to his homeland, hoping to live together in luxury and happiness. However, she soon found herself trapped in a terrifying situation, helpless and isolated from her friends and family.
A comedy sketch about two Muslims who were traveling to visit their friend, when they got detained by the airport security. After having been through this process many, many times, this time they meet an inexperienced officer, to whom they proceed to give helpful advice, tips and tricks on how to do his job.
The next two performances were done in the aforementioned "forum theatre" format. The original performances are heart wrenching and tragic, but he second time they were played, the audience got involved and helped assure a much better outcome for the protagonists. The experience was not only fun, but also educational – it showed how ordinary people can intervene with bad situations and in some cases, prevent them from occurring altogether.
The first forum theatre was the story of Masha, a dancer and an actress who had fled from Russia. Attemping to follow her dreams of becoming a professional dancer, she gets involved with very dangerous people and has a terrifying experience. Ignored by the people around her and not being able to get any help, her life seems to be completely ruined.
Following it was the story of Natasha, a Ukrainian girl working in a paper company in Cyprus. She is happy with her job, in part thanks to Pam – her coworker and best friend. Usually, the worst thing she must deal with in the office is unpleasant treatment from some of her coworkers, but this time she's facing something much worse – her boss, having made a grave business mistake, is attempting to set her up to take the fall, and bear the consequences for something that was not in any way her fault.
The last performance was originally created as a LARP (Live Action Role-Play), which meant that a significant part of it was improvised, and the story was not set in stone. That performance was the story of an ordinary Burmese family faced with a sudden and terrible turn of events. Narrowly escaping a brutal massacre, they still struggled to survive even as they got to safety. Eventually, they had to resort to arranging a marriage with one of their daughters in order for the rest of the family to survive.
It was fascinating to see acting being used as a medium of communication, and thanks to many incredibly talented participants and of course, wonderful and helpful trainers, the messages conveyed by our plays were concise, clear, and powerful.
Apart from working hard, we also managed to enjoy our time at the project. We hosted three cultural evenings in total; two were dedicated to the countries of the participants, and the third one was dedicated solely to Romania. In the cultural evenings the participants shared with everybody their countries' foods, drinks, national dances, music and other valuable bits of culture. In our free time we explored the surroundings of Sarata-Monteoru and later Buzău, we visited the local mud volcanoes, and participated in the tasting of Romanian wine. Every single one of us left the project with many new experiences and inspirations, impressions and ideas, and most importantly, many new friends.
Nikita Golmgren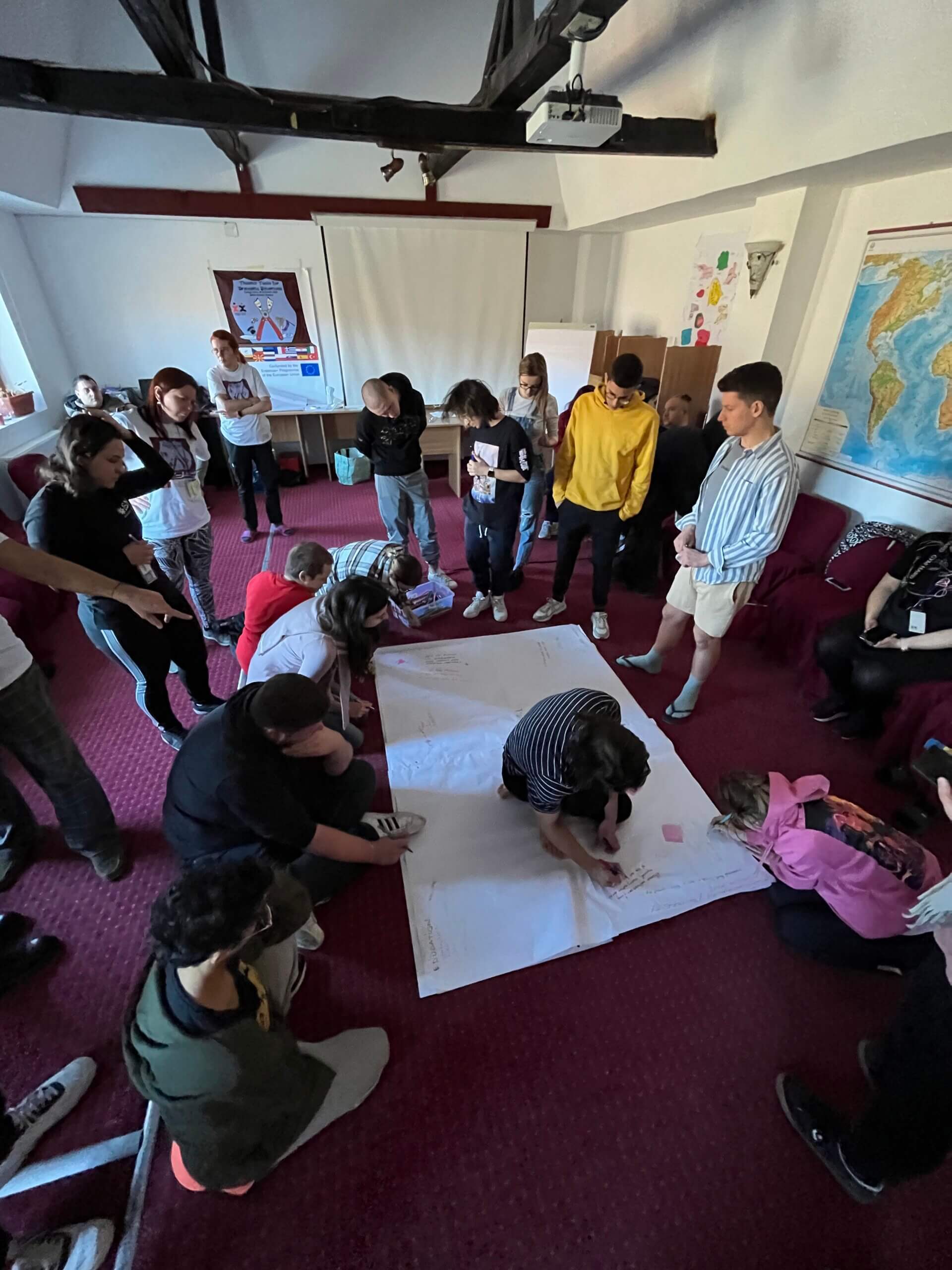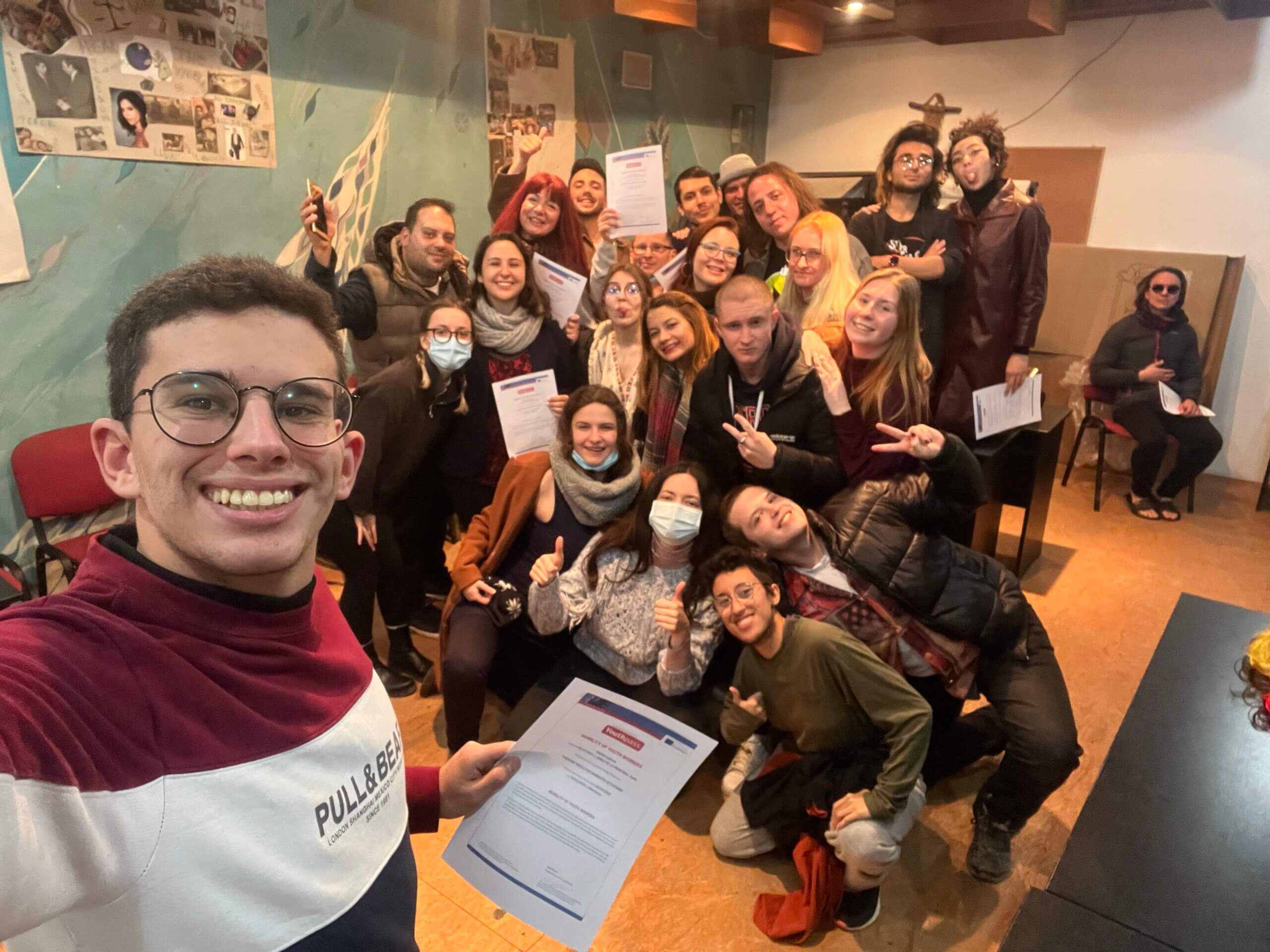 Videa ke stažení: